Indulgence at the highest level: The Alpinist Dark Stone.
21 botanicals, fresh mountain herbs such as edelweiss, clovewort or gentian root in perfect interplay with juniper and water from the Jungfraujoch ice sea result in a distillate full of alpine soul. Wild, impetuous and with rough edges. Are you ready for "Dark Stone"?

The Alpinist.
For all those who know the difference.
Coloured with E150d and E151.
0.7L | 46% VOL
You receive free priority shipping for orders over CHF 80. Ordered by 2pm, delivered tomorrow.
We have put a lot of effort into ensuring the quality of our craftsmanship and raw materials so that you receive the best quality product.
We promise that the real, caring people behind our customer support team will do their best to make sure you're satisfied before, during, and long after your purchase, so don't hesitate to reach out to them at any point during the buying process.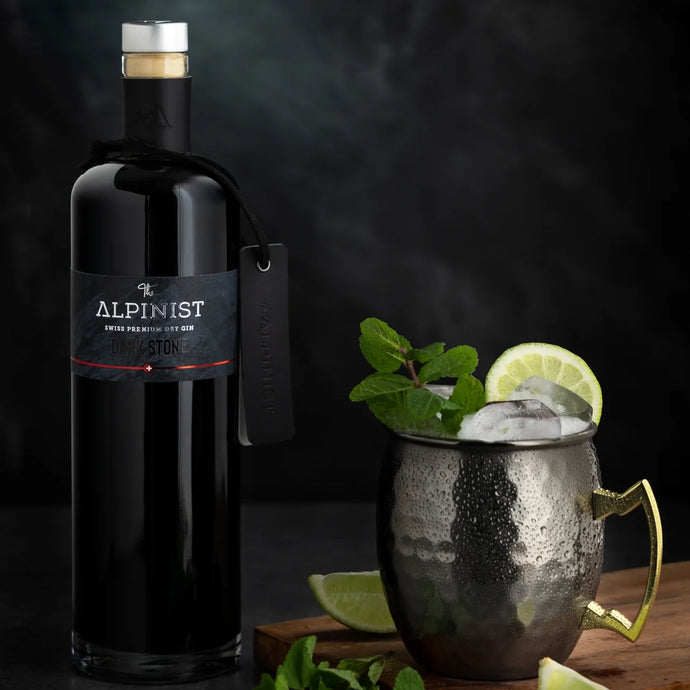 GENUSS – THE SPIRIT OF THE ALPS
This top-class distillate contains no fewer than 21 naturally fresh, regional herbs – harmoniously composed and matched to our Alpinist Gin with selected botanicals from the mountains and the purest glacier water from the Jungfraujoch.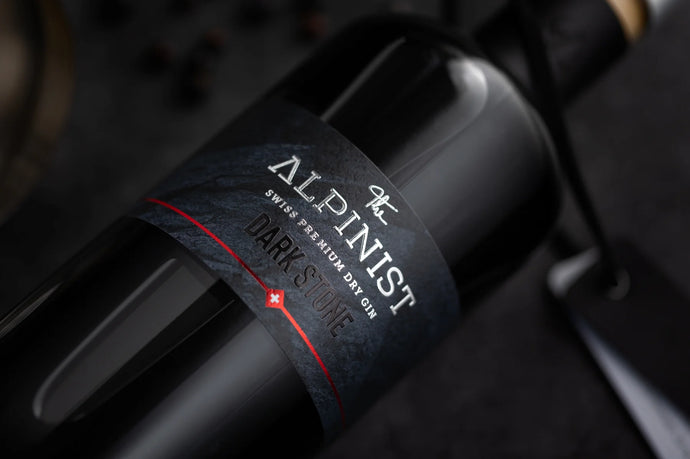 THE TASTE OF DARK STONE GIN
Natural and tart, wild and spicy: its intrinsic qualities hold the promise of a unique flavour with an incomparable character. Wanderlust is awakened, and the love for home is enhanced.
1. In the nose
Intense, warm citrus, sun-ripened sweet oranges and cool juniper notes, touches of lemongrass and playful, herbal and slightly earthy hints.
2. On the palate
Powerfully spicy, straightforward and full-bodied. Discreet sweetness from the citrus, followed by juniper, coriander and warm spices with a hint of roots.
3. The aftertaste
The flavours complement each other, creating a complex ensemble: sweet orange, spices and warm earthy notes. A lingering, creamy and well-balanced finish.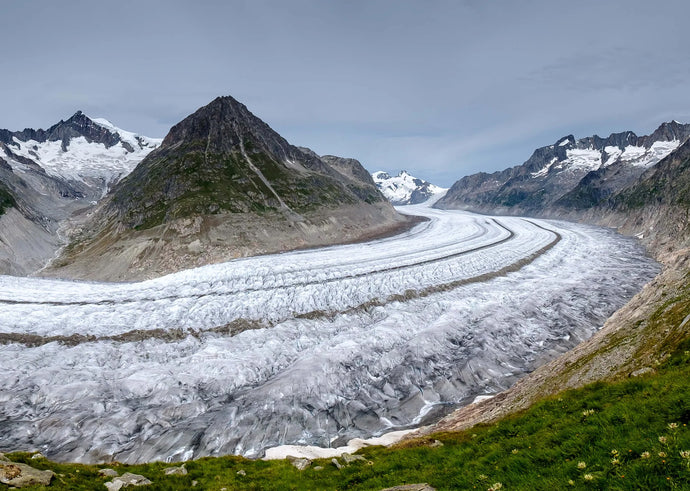 The large Aletsch Glacier
Normal water is not good enough for our premium spirits. We use Swiss glacial water, which has its source at an altitude of over 3'160 meters on the Jungfraujoch!
The Aletsch glacier is the biggest and longest glacier in the Alps. Between the Eiger, Mönch and Jungfrau, it has its own ice tunnels on the Jungfraujoch. These are the source of the glacial water, which is used to reduce the distillate to bottling strength. The natural glacial water gives our spirits a particularly soft and pleasant flavour.
WHAT'S IN DARK STONE GIN?
We're closely connected to the world of Alpine herbs. This is why, for our latest creation, we've enhanced our Alpinist Gin blend using natural ingredients straight from the mountains.
Meadowsweet
The ancient plant with a sweet, tangy taste, is the perfect complement to our Dark Stone Gin.
Mountain avens
Originally from North Africa, has a faint scent of cloves. Its tannins give the Dark Stone Gin more structure.
The peony
Coveted since ancient times, contains tannins for greater body. It makes our black gin dry and pithy.