Sub Headline
The golden age of Alpinism
It was the year 1857 when some gentlemen looking for adventure founded an Alpinist club in London. Driven by a spirit of discovery, their goal was to climb the last unscaled peaks of the Alps. Stories like this have inspired us to preserve the indescribable feeling of standing at the summit.
Start your Alpinist journey

Made in Switzerland
Swiss manufacturing experience, combined with premium Swiss ingredients, like the glacier water, leads to an exceptional product.

Free Express Shipping
Get free next-business-day delivery on all orders over CHF 80. Ordered by 2 p.m., delivered tomorrow.

Exceptional Customer Service
We're here to help you from before to long after your purchase.

Perfect as a Gift
Carefully hand-finished in beautiful gift boxes makes this the perfect gift for any spirit-lover.
Beyond Barrel | Private Reserve Collection
THE LARGE ALETSCH GLACIER
Normal water is not good enough for our premium spirits. We use Swiss glacial water, which has its source at an altitude of over 3'160 meters on the Jungfraujoch!
The Aletsch glacier is the biggest and longest glacier in the Alps. Between the Eiger, Mönch and Jungfrau, it has its own ice tunnels on the Jungfraujoch. These are the source of the glacial water, which is used to reduce the distillate to bottling strength. The natural glacial water gives our spirits a particularly soft and pleasant flavour.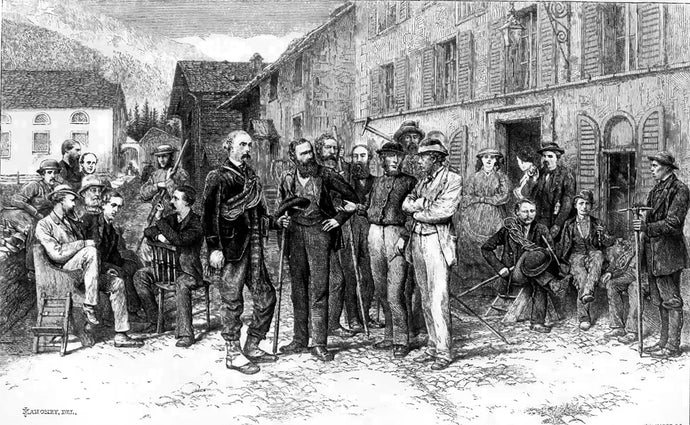 THE GOLDEN AGE OF ALPINISM
It was the year 1857 when some gentlemen from London with a craving for adventure founded the first mountaineering club, the 'Alpine Club', which has continued to exist to this day. One of the club's founders and presidents was Sir Leslie Stephen. Midway through the 19th century he was not only the first person to scale some of the most challenging peaks in the Swiss Alps but he also wrote the successful book 'The playground of Europe' in which he shared his experiences in the Alps with the public at large.It was an age marked by determination and courageous decisions. It was the age of the alpinists. Stories like these inspired us to embark on our own adventure. In this way, the pioneering spirit of those far off days lives on, more than 160 years later, in our Alpinist Premium Spirits.
Drinks & Cocktails
Whether it's a fantastic Gin & Tonic or a delicious cocktail with one of our Rums, we got all the recipes you could ever want!