A feeling wells up reminiscent of one's gaze when contemplating the world from the top of a mountain. This premium vodka is carefully distilled many times and is soft on the palate. Tentative aromas of cereals are accompanied by a hint of citrus. Its Alpine soul originates from the "Eismeer – Sea of Ice" on the Jungfraujoch, situated 3160 meters above sea level. Enjoyment from high above. With the passion of Alpinists.
0.7L | 42% VOL
You receive free priority shipping for orders over CHF 80. Ordered by 2pm, delivered tomorrow.
We have put a lot of effort into ensuring the quality of our craftsmanship and raw materials so that you receive the best quality product.
We promise that the real, caring people behind our customer support team will do their best to make sure you're satisfied before, during, and long after your purchase, so don't hesitate to reach out to them at any point during the buying process.
Sub Headline
Important note
Due to supply chain issues, we currently don't have the leather hang tags for this product. Current orders will be shipped without the hang tag, and if you wish to get one later once the hang tags are available, you can send us an email to support@the-alpinist.com. We are sorry for the inconvenience and will do our best to prevent this from happening again.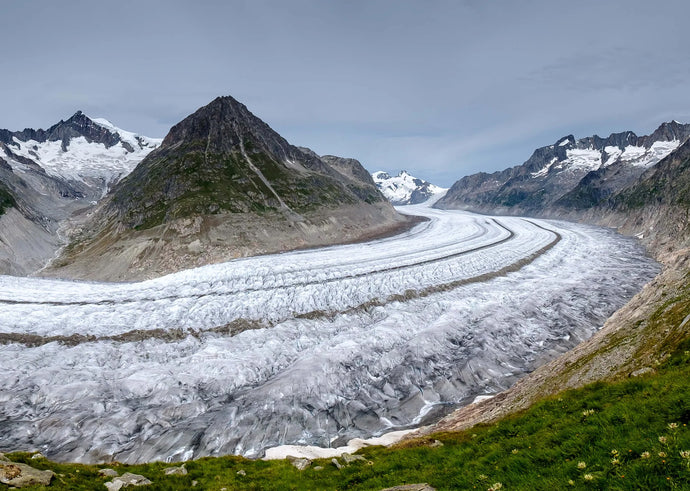 The large Aletsch Glacier
Normal water is not good enough for our premium spirits. We use Swiss glacial water, which has its source at an altitude of over 3'160 meters on the Jungfraujoch!
The Aletsch glacier is the biggest and longest glacier in the Alps. Between the Eiger, Mönch and Jungfrau, it has its own ice tunnels on the Jungfraujoch. These are the source of the glacial water, which is used to reduce the distillate to bottling strength. The natural glacial water gives our spirits a particularly soft and pleasant flavour.
The Perfect Vodka Martini
Equipment
A shaker or cocktail mixing glass
A bar spoon (or teaspoon)
A strainer
Cocktail glass
Ingredients
50 ml The Alpinist Swiss Premium Vodka
10 ml Noilly Prat Dry Vermouth
To garnish: lemon peel
Ice
Preparation
1. Chill your cocktail glass in the freezer or with ice (the easiest way is to fill it with ice).
2. Add the Ice to your mixing glass or shaker.
3. Add the Vodka & Noilly Prat Dry Vermouth.
4. Stir the mixture for about 30 seconds to chill and dilute the drink, then strain into the chilled cocktail glass.
5. Express lemon peel gently over the cocktail, so it's perfumed with the citric oils. You can also rub it along the rim of the glass.
6. Garnish the drink with a twist of lemon peel.
To make the lemon twist, cut a long piece of zest (around 8 to 10 cm), and twist it in a spiral.
7. Rest your spiral on the rim of the glass or drop it in and serve.